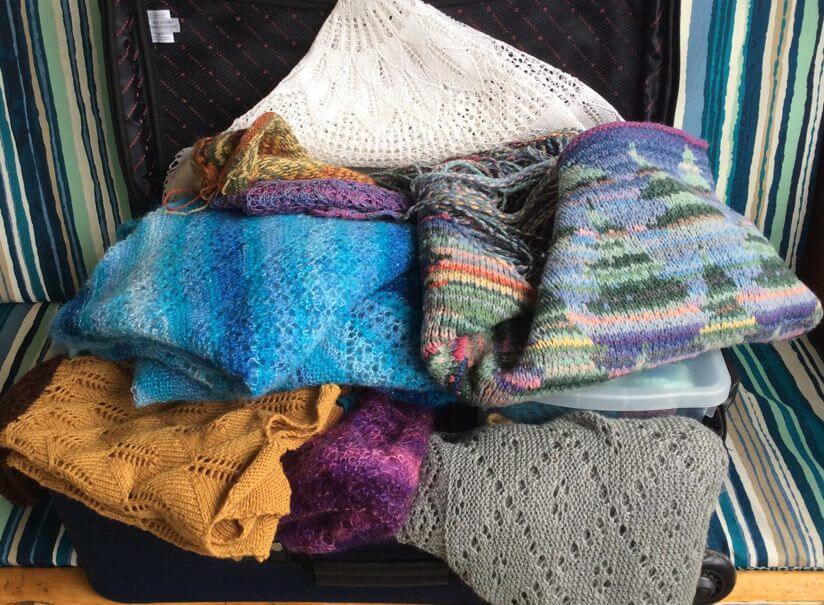 I really enjoy workshops -- there's so much going on and everyone is there to absorb information. Today, I gave a workshop to my home knitting guild, the Couchiching Knitters' Guild in Orillia. Because this is my home guild, I know most of these ladies fairly well, even if I can't always remember their names.
Today's workshop was about shawls, their construction, and a way of starting a shawl with a provisional cast on. I love talking about shawls, and I can literally fill a suitcase with just my favourite pieces and my workshop samples. It was a half-day compression of my "shawl series" - a trio of full-day workshops that studies a different shape of shawl each day.
I came away from today's session thinking about what makes facilitating workshops so great. Here are my top 5 reasons:
#5 - I get to revisit many of the projects and sometimes the sample projects I've made over the last decade or 2 (or 4)
When we knit projects, we tend to do them one at a time, then either give them away or store them in different locations. When it comes to my shawls, some (the good ones) get carefully stashed away for special occasions, while others get rather carelessly draped over the valet in my bedroom. (Why yes, I consider them decoration, too.) When a workshop crops up, I have a perhaps unique opportunity to gather many of my pieces into one place, and I assure you, it's very rewarding to see decades worth of your work compiled together!
I'm not kidding now: treat yourself. Go through your closets and drawers and pull out a bunch of your knitted goods. Stack them all on the bed in the spare bedroom, stand back and take a picture. Just see how good that makes you feel!
#4 - I get to review materials I've written for past workshops and customize it for the new group
As most of you know, in addition to the love of knit, I also love to write. A workshop on a similar theme as a previous one gives me the opportunity to revisit words from years past. Sometimes, just as with my knitting, it's great to see how much work I put into that earlier workshop, and sometimes I see some things I would like to do differently. A new workshop gives me the chance to improve on that.
#3 - Workshops give me the chance to do what eons of knitters before me have done: share information, and to do what a Guild is supposed to do: educate.
When I started Canadian Guild of Knitters in 2002, I received advice to make the name of my business substantially different from one that had gone before. That one piece of advice was difficult to take, because of what I wanted Canadian Guild of Knitters to be: I wanted it to be aimed at Canadian knitters, and I wanted the word "guild" because the purpose of a guild is to educate, and that was important to me. Canadian Knitting Education just doesn't have the same ring to it.
From the very mists of time, knitters have shared their information with others, and a workshop is a great opportunity to provide specialized knowledge to a wider audience than one-on-one knitting classes.
#2 - I get to talk at length about something I love
And I love talking about shawls! So, today's workshop was particularly close to my heart. I am, however, equally comfortable talking about lace knitting, or knit/purl designs, or i-cord. The true bottom line is that I love all things knitting -- except maybe entrelac. Just not there yet.
#1 - I love seeing information "click" in the minds of the attendees.
By far, this is the most important part of teaching for me, and it has been since I started to teach knitting in the 1980s. The "lightbulb" might be as simple as seeing someone start wrapping their needle in a more convenient way, so they don't have to knit through the back of the loop on the first row, or it may be as complex as having the "shoe drop" when it comes to which way to put the cable needle to get your cable to twist to the left or the right.
I have lived and breathed knitting for 40 years now, and there's little I haven't learned along the way. If you would like to have me come out and give your group a workshop, hop on over to my contact page, and let me know what you'd like to learn and when you'd like to learn it!
In the meantime, Happy Knitting!